LAUNDRY/CLEANING
OxypowerTM
OxyPowerTM has the strength for not only the stains and odors that are all throughout your house including laundry, grout, shower curtains, trash cans, fish tanks, garbage disposals, unfinished wood decks and more, but now its power can be used for all types of industrial needs as well.  You control the force of OxyPowerTM to equal the difficulty of the stain. Use warm to hot water to dissolve crystals completely.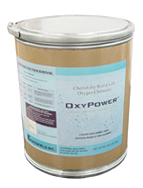 USAGE GUIDELINES:
Always test for colorfastness first by applying OxyPowerTM solution to an unseen area and allowing it to dry.
Do not use on wool, silk, leather or anything that is unable to be washed in water.
Do not mix with chlorine bleach.
Keep away from face when mixing solution.
Keep OxyPowerTM sealed and dry when not in use.
Once mixed, solution should not be left in sealed container. The solution will continue to give off oxygen and the container may enlarge and leak.
NOTE: Some stains may require stronger, longer or additional treatments. Always start with the weakest solution and increase strength of OxyPowerTM as necessary. Greasy stains may require a mild detergent treatment in addition to OxyPowerTM. OxyPowerTM decomposes into naturally occurring elements.
PRECAUTIONS: KEEP CRYSTALS AND SOLUTION OUT OF REACH OF CHILDREN AND PETS.  AVOID CONTACT WITH EYES AND MUCUS MEMBRANE OR PROLONGED CONTACT WITH SKIN. In case of eye contact, flush with water for 15 minutes and call a physician. DO NOT INGEST. If swallowed, do not induce vomiting. Drink a glassful of water and seek prompt medical attention. Contains sodium percarbonate and sodium carbonate.
DIRECTIONS FOR STAIN REMOVAL
1 Scoop = 2 tablespoons
ALWAYS TEST FOR COLOR FASTNESS FIRST BY APPLYING OXYPOWER™ TO AN UNSEEN AREA AND ALLOWING IT TO DRY.

OXY POWER
WATER
MIXING APPLICATIONS
GENERAL STAIN REMOVAL
1/8 SCOOP
PER 16 OZ.
For fabrics, upholstery and water-washable household surfaces apply to surface and let stand for 5-30 minutes.  Scrub with a sponge or blot with a towel (depending on surface).  Rinse thoroughly and allow to dry.
LAUNDRY ENHANCER

6

SCOOPS
PER LOAD
(50 LBS)
Begin filling the washer with water.  Add OxyPower™ and detergent before adding any clothes to washer.  Works as an excellent alternative to chlorine bleach.
TRASH CANS, LITTER BOXES, FISH TANKS
2 SCOOPS
PER GALLON
Clear out container of all contents before cleaning.  Fill with warm water, add OxyPower™ and soak for 1 hour.  Throw out solution and rinse well.
CARPET SPOT REMOVER
1/8 SCOOP
PER 16 OZ.
Blot extra liquid or other substances before treating stain.  Spray solution on the spot and let stand for 5-30 minutes.  Rinse well. Remove extra liquid with a towel or cloth.  Vacuum after completely dried.
TILE AND GROUT
2 SCOOPS
PER 2 TBSP.
Mix solution until it is moist and gritty.  Apply with rubber gloves to surface.  Let stand for 1 hour.  Scrub off with a brush if needed and rinse completely with water.
UNFINISHED WOOD DECKS, SIDING, LAWN FURNITURE
1/8 SCOOP
PER 16 OZ.
Apply to surface using a lawn sprayer or spread onto area from a bucket.  Let Stand 10-30 minutes.  Scrub with a brush if needed and rinse completely.
SOAKING
1-4 SCOOPS
PER GALLON
Add item and let soak for 1-6 hours.  Remove item from solution and rinse or wash completely.
Large capacity washing machine
Color Safe. Fabric Safe.
Oxygen Bleach for Laundry

Highly Concentrated. Still using household bleach for commercial cleaning? Maybe you're not satisfied with powder soap that contains bleach? Why not try OXYPOWER, you and your customers will be extremely satisfied with the results! Made with 65% of highly concentrated Sodium Carbonate Peroxyhydrate, which gives you the best results, beating all other leading brands.
Best Results Guaranteed.
Guaranteed Savings for:
Commercial Laundry, T-shirt cleaning wholesaler, Hospitals, Hotel linen laundry services, Nail salons, saunas, etc.
Protects the Color of Clothing, but cleans stains
with an AMAZING result
Environmentally friendly- worry less about pollution
Removes bad odors and sterilizes- has same effect
as disinfecting clothes
Ingredients approved by ISO-9001 (International
Quality Standard)
260 million LBS of Sodium Carbonate
Peroxyhydrate (ingredients of oxidized bleach) is
produced by our own facility. 170 million lbs are
being sold in the US
Convenient packaging- sold in large 80lb/pails
Economical-reduced detergent cost